PREZISTA® /r: Tolerability Proven Over Time
Median Lipid Levels Remained Within NCEP Cutoff Levels From Baseline Through 192 Weeks With
Once-Daily PREZISTA®/r1, 2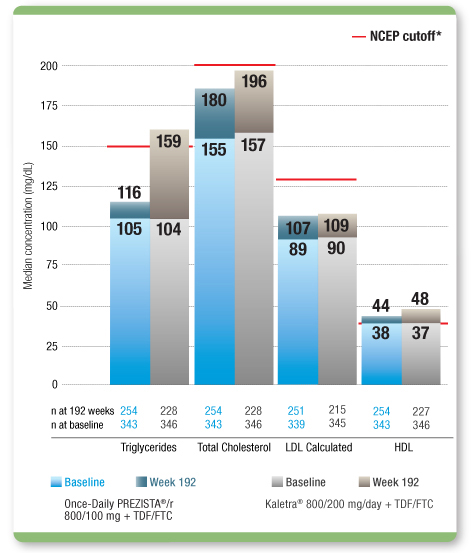 The clinical relevance of this information is unknown.
Use of lipid-lowering agents in ARTEMIS through 192 weeks was 11.7% in the Once-Daily PREZISTA®/r arm (n=40) and 14.2% in the Kaletra arm (n=49)1
Selected laboratory abnormalities (≥Grade 2) through 192 weeks3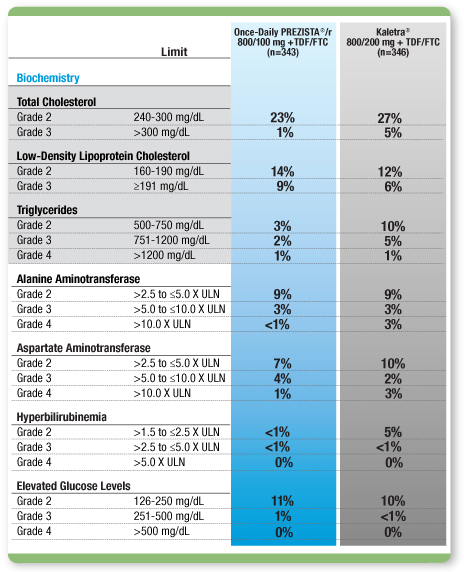 * NCEP (National Cholesterol Education Program) cutoffs: triglycerides <150 mg/dL; LDL <130 mg/dL; total cholesterol <200 mg/dL; HDL >40 mg/dL.2
LDL=low-density lipoprotein; HDL=high-density lipoprotein; TDF/FTC=tenofovir disoproxil fumarate/emtricitabine.
Kaletra (lopinavir/ritonavir) is a registered trademark of AbbVie Inc.